Title
: Diving In
Author:
Kristina Mathews
Genre/Age
: Contemporary Romance/Adult
Series
: Swift River Romance Series
Publisher
: Lyrical Press
Links
:
Goodreads
Synopsis
:
The sweetest revenge . . .
He's the Swift brother who got left behind, the son abandoned by his father. Now Kyle Swift is a man determined to destroy the whitewater rafting empire built by the half-brothers he never knew, the Swift sons who got the life—and the love—he was denied. Seducing Fisher Jones isn't part of his revenge, but sharing a bed with the beautiful whitewater instructor is the one bright spot in his otherwise dark plan. That is, if he manages not to fall for the sad-eyed beauty . . .
Fearless when it comes to facing even the most daunting river rapids, Fisher never takes chances with her love life—until the night she gets swept away by a sexy stranger. But when her one-night stand unexpectedly shows up in her whitewater class, Fisher faces her greatest challenge yet: keeping her heart safe from a man determined to put an end to the family business—and the life—she holds dear. . . .
---
"Here you go, a Strong Blonde for the strong blonde." Randy set a glass of the local craft brew in front of her. It wasn't her usual drink choice. She preferred a pale ale or an IPA after a long day on the river.

"I didn't order this," Fisher said with a smile.

"No. He did." Randy nodded toward the guy on the end of the bar, who lifted a glass and flashed a killer set of dimples.

"Oh, okay." Fisher felt heat creep across her cheeks. She took a sip and smiled at the stranger. He was kind of cute. No, he was very cute. Hot, actually. And he was walking toward her.

"Hi. I'm Kyle." He offered a firm handshake. Warm, strong. Kind of tingly.

"Fisher." She held up her glass. "Thanks for the drink."

"Well, I wasn't sure what to order, but then I saw you walk in and decided I was in the mood for a strong blonde." He glanced down at her bare arms, well-sculpted from her years on the river. "And then I thought I'd try the beer."

"Well, be careful," Fisher warned. "Strong blondes can knock you flat on your back if you're not used to them."

"That's what I was hoping for." He grinned at her, lifted his glass, and took a long sip, not taking his eyes off her.
Five Favorite Movie Scenes
Note from Dawn: Images added by me!
In
Field of Dreams
, when Ray realizes who the catcher is. "Hey Dad, wanna have a catch?" I cry every. Single. Time. I once watched the movie twice in one day. Still cried both times and got goosebumps. It was the first movie I saw with my husband when we started dating. Kevin Costner was my backup plan, if things didn't work out with Mr. Mathews. Sorry Kevin, but if you want to make a movie from one of my books, I'm available.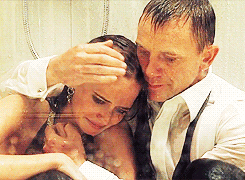 The shower scene from
Casino Royale
. Where Vespa is sitting in her evening gown after helping Bond kill the bad guys and James climbs in next to her, removes his tie, and quietly turns up the hot water. It showed a depth of character that had been missing from the movies before then. His tender side. And it was oh, so sexy.
When Zack Mayo gives up his chance for the obstacle course record to help Seeger over the wall in
An Officer And A Gentleman
. That was when I knew he was swoon-worthy. Yeah, it was nice when he carried Paula out of the paper factory, but he proved he was the man she deserved when he helped his friend over that wall.
Princess Leia grabs the blaster and leads them into the garbage chute in
Star Wars
. Even at the age of seven, I knew she was a different kind of heroine. The kind of woman I grew up believing I could be. Tough, tender, loyal. A woman who doesn't take any s#!+ from anyone, whether he's Darth Vader or Han Solo or a walking carpet named Chewbacca.
In
Bull Durham
, Annie Savoy is tied up in bed, moaning in pleasure and when the camera pans away you see Crash Davis painting her toenails against his chest. Or the one where he's ironing in his boxers and they argue about baseball and Nuke, and she says she wants him, but then he says he thinks she should leave. And when he says he's the player to be named later and he tries to quit but he can't because he loves the game too much. And when he tells Nuke, "The rose goes in front, big guy". And… Okay, I love every scene in that movie. Even after all these years, it is pretty much the only movie where a woman takes ownership of her sexuality and no one dies for it. She makes the rules. She decides who she sleeps with and she even gets to change her mind. Annie also encourages Millie to take responsibility for her sexuality "You did not get lured. Women are too strong and powerful." And then she tells Millie that we all deserve to wear white. I love how she's feminine and strong and smart and passionate about the game and her team. She uses a baseball card as a bookmark and art deco vase as a baseball holder. She wears very sexy feminine dresses to the ballpark, but cotton Jockey underwear underneath. She's such a complex character. And Kevin Costner is so dreamy.
Kristina Mathews doesn't remember a time when she didn't have a book in her hand. Or in her head. But it wasn't until she turned forty that she confessed the reason the laundry never made it out of the dryer was because she was busy writing.
While she resigned from teaching with the arrival of her second son, she's remained an educator in some form. As a volunteer, parent club member or para educator, she finds the most satisfaction working with emergent and developing readers, helping foster confidence and a lifelong love of books. She proudly tells her students that she writes romance novels that they can read when they're older.
Kristina lives in Northern California with her husband of more than twenty years, two sons and a black lab. A veteran road tripper, amateur renovator and sports fanatic. She hopes to one day travel all 3,073 miles of Highway 50 from Sacramento, CA to Ocean City, MD, replace her carpet with hardwood floors, and throw out the first pitch for the San Francisco Giants.
Social Media Links:
Buy Links:
a Rafflecopter giveaway