Title
: The Mirror
Author:
Karla Brandenburg
Genre/Age
: Contemporary Romance
Series
: The Epitaph Series
Publisher
: Sonderocity
Links
:
Goodreads
Synopsis
:
When Sandra Meyer's violent ex-boyfriend returns to sleepy Edgarville, Illinois, she turns to the man who stood up to Nick Benedetto back in high school. If brawny Garth Benson will pose as her boyfriend on social media, maybe Nick will leave her alone. Sandra adores Garth, but she doesn't want any more ties to Edgarville. Now finished with a decade of dedicated service as her mother's caregiver, Sandra is planning her exit from this one-stoplight town.

Garth is firmly rooted in Edgarville with the family monument business and a trophy shop that will need a "mom" to his "pop." Garth has wanted Sandra ever since he slugged Nick more than ten years ago. Her secrets run deep, as do the strengths that he admires within her, but whenever he tries to move their casual flirtations from talk to dating, she backs away.

Small town life has strangled Sandra as effectively as Nick tried to when they were in high school. Garth might be the one man who can protect her from Nick, but what he expects in return is too much. On top of that, her deceased father's unexpected appearance in the mirror of her new home exposes long-held secrets that will change Sandra's view of her family and hometown forever.

When the last tie holding her to Edgarville is cut, Sandra runs as fast as she can, but the world outside her small-town community isn't all she expects.
---
The book is on sale for only $0.99!
Her father's face came into focus first, followed by the rest of his body. He smiled at Sandra, crossed the room and opened the dresser. Sandra turned to look. The drawer was closed. Nobody standing beside it. In the mirror, her father held the diary. Sandra reached into her purse to check. She still had the real one. Her father opened the book to a page about a third of the way in. Sandra followed suit. In her hand, two more pages flipped by themselves. Sandra backed away, holding the book from her body.

"This page?" she asked the reflection.

Her father nodded.

"I think he's trying to help you," Garth said, his voice raising gooseflesh on Sandra's skin. She'd forgotten he was with her.

Her father looked at Garth and nodded again.

Sandra folded over the top of the page to mark it and closed the diary. "Thank you," she told the reflection.

Her father blew a kiss and disappeared.
Five Favorite Movie Scenes
While You Were Sleeping – I have a couple of scenes in this one, and my twisted sense of humor laughed hysterically when the paperboy on the bike slipped and fell. I liked it because it was unexpected and funny. I liked the scene where Sandra Bullock and Bill Pullman went sliding on the snow and ice in front of her apartment, too. (What is it about snow and ice??) It's the first time they "touch," and the honesty in the scene tugs at my heart.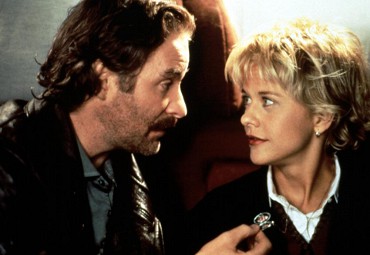 French Kiss – When she shows him that she's wearing the necklace, (because it shows her playful side) oh, and don't forget the scene when she's on the plane to go home… "I want you…." Yep. Gets me every time. That is true romance for me, that in spite of their differences and their warts, they have something more. An Affair to Remember – the visit with Janoo. It resonates with my sense of family, that even selfless people love their families. It makes Cary Grant more human.
Christmas in Connecticut – so many scenes in that one, but I'll go with when he's playing the piano while she decorates the tree. It's a tender moment, and the first time we know that she's falling for him. Be still my foolish heart!
Housesitter – this one's my oddball choice. I love the end, where she's hurt and trying to run away, and Steve Martin has to either join her crazy train or let her go, except by now we all know he's in love with her. So he gets on the bus and makes up a story that fits their make believe life. I love the silliness of it and the message that, yeah, I know you're nuts, but I love you anyway.