Title
: Rescued by the Cyborg
Author:
Cara Bristol
Genre/Age
: Sci-Fi Romance/Adult
Series
: Cy-Ops Sci-Fi Romance (Book 5.5)
Publisher
: Self-published
Format
: ebook via Author
Rating
: ✺✺✺
✺
✺
Links
:
Goodreads
Synopsis
:
A cyborg with haunted past, a woman with a clouded future…
Battered and broken, hostage and sole survivor Solia waits for death at the hands of vicious predatory aliens when Cy-Ops agent Guy Roarke disobeys orders, charges in, and rescues her. A former medic, he initiates emergency medical procedures before rushing her to Cybermed, in hopes of saving her wing so she can fly again. He's taken with the delicate, brave Faria, but his best intentions result in unfortunate consequences that place her in greater jeopardy. Can he overcome the guilt of past mistakes in time to save her life?
Publisher's note: Rescued by the Cyborg was originally published in the anthology Embrace the Romance: Pets in Space 2. It has been re-released as a single title novella. Rescued by the Cyborg is Cy-Ops Sci-fi Romance 5.5 and fits between book 5 (Claimed by the Cyborg) and Book 6 (Hunted by the Cyborg). However, all the series books are standalones with an HEA and no cliffhanger. You can read them in any order.
**Disclaimer: I received a complimentary copy of this book.**
When your knight in shining armor is a cyborg with a spaceship...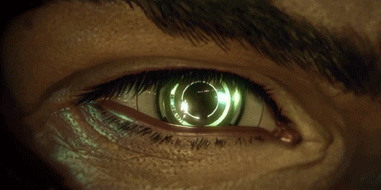 Solia is trapped. No, literally. She has been abducted along with a group of others by a vicious rival alien race who are picking their hostages off one by one. It's a cruel death and Solia has had to watch almost all of her companions being tortured and killed. The worst part of it all is that she can actually understand the language of their captors. Hearing their vile plans, Solia is sure she is about to meet her untimely end.
Guy isn't about to let a potential rescue go to waste. He knows the beasts have prisoners and if he can save even one person, it will make the risk of the mission worth while. Finding the beautiful yet battered Faria is almost a blessing. He feels drawn to her and an urge to protect the woman with everything he has. But knowing how strenuous his job can be on a relationship, he isn't sure if he'll ever find someone to give his heart to.
This entire month has been insanely busy and super stressful. Reading is my usual way to relax, but it was even difficult to find time to crack open a book, a.k.a. 'turn on my Kindle'. But I knew this book would be an easy read and I was right. I've yet to be disappointed by this author's work. And this book came at a time when I really needed a good pick-me-up.
After reading the other books in this series, which were centered around the fight against a particularly wicked group of villains, I've been wondering if we were going to get a glimpse of some new bad guys. And oh boy, do we. These monsters might be even more cruel than the others, especially paired with the alien/human traffickers. I love when I can really hate the villains.
But I also enjoy rooting for our good guys. And
Solia was a great heroine. She was intelligent and courageous. I think she was a great match for Guy, who brazenly rushed into danger to save her. They were an interesting pair. And the chemistry between them was really sweet. Guy didn't stand out as much as some of the other male leads in the series, but I did find his relationship with the cat to be adorable. So that angle did make the story more unique for me.
This story had everything I've come to expect from a book in this series. There was action and suspense, some mystery and a twist or two thrown in.
And of course, a couple of lonely hearts who find happiness with each other.
The bad guys were wicked and gave me chills. The action was easy to follow and the pacing was perfect. No complaints here.
In closing...
Looking forward to seeing what happens next. Five suns!