Title
: How to Handle a Heartbreaker
Author:
Marie Harte
Genre/Age
: Contemporary Romance/Adult
Series
: The McCauley Brothers Series (Book Two)
Publisher
: Sourcebooks Casablanca
Format
: ebook via Library
Rating
: ✺✺✺
✺.5
Links
:
Goodreads
Synopsis
:
It's lust-at-first-sight when Brody Singer first sees Abby Dunn. Abby looks a lot like a woman he once knew, one who died years ago. But Abby's definitely different—shyer but sexier.
Abby's still trying to put her last disastrous relationship behind her and overcome the flaws her ex wouldn't let her forget. But somehow Brody isn't getting the hint. It doesn't help that when writing her steamy novels, she keeps casting Brody as the hero.
Only Abby can write her own ending—will she choose her own happily-ever-after, or stay safe in her shell?
Oh, Brody... My favorite honorary McCauley brother. *swoon*
I have been a fan of Brody's since his first scene in this series. He is hilarious and his playful antics with Colin, his nephew, are so sweet to witness.
What can I say?
I am a sucker for a man who makes me laugh and is good with kids. Brody is such an easy character to root for.
Then we have Abby, our erotica romance author extraordinaire. She might be innocent on the outside but deep down is a dangerous siren who has a way with naughty words. In her writing, that is. And her inspiration as of late? None other than Brody, of course.
But Abby's painful past relationship makes it difficult for her to act on her fantasies, no matter how willing Brody may be. Living through her fictional characters is easier than admitting that she may be developing feelings for the handsome plumber and his mischievous
giant canine. (I am referring to a dog, people...)
Brody won't give up on Abby, however. He uses his unruly dog in need of training and Abby's occupation to his advantage, convincing her that their trysts could be good research for her novels and her presence necessary to teach his dog to behave. Along the way, Brody does his best to open the heart that Abby closed off after her ex left it broken and scarred. In the end, Brody's dog may not be the only one who wants Abby to "stay". Get it? Ha!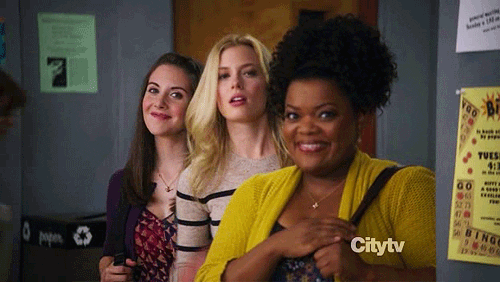 This book had a deeper story than I was expecting. As always, I enjoyed the writing and I love the family dynamic of this series. The characters depend on each other and their behavior and flaws are realistic, making the books quick and easy reads. I have a hard time putting them down!

In closing...
Another McCauley's heart is taken. Who is next? 4.5 suns!