Title
: Teacher's Pet
Author:
Lola Darling
Genre/Age
: Contemporary Romance/Erotica
Series
: None
Publisher
: Lola Darling Books
Format
: ebook via KindleUnlimited
Rating
: ✺✺✺
✺
✺
Links
:
Goodreads
Synopsis
:
"Looks like you dressed for the occasion."
"You said I should come prepared, professor." She wriggles beneath me.
I bring my hand down on her bare ass, just sharp enough to make her feel it, not enough to leave a mark. She inhales sharply, her hips bucking.
"And have you, Ms. Reed? Or will I need to reprimand you more thoroughly?"
When Harper Reed came to Oxford, her dream was to study modern poetry with the infamous Professor Jack Kingston, NOT to sleep with him. But his lectures are intoxicating, his knowledge captivating, and his accent drops panties faster than Charlie Hunnam on a Saturday night.
Harper has never made good decisions when it comes to sex and Jack has never been able to commit, yet there's something between them that neither of them has felt before. But students and teachers are not supposed to fraternize, even as this out of control connection puts both of their futures on the line.
When their forbidden love is tested, can they make the grade?
**Disclaimer: I received a complimentary copy of this book in exchange for honest review.**
Oh, wow...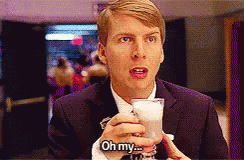 This book was a surprising breath of fresh air. I LOVE forbidden romance stories. This, you probably already know if you follow my blog. That being said, this story does not follow the usual flow-of-events of teacher/student relationship books that I've read.
Most go like this: lust for each other-->denial of lust because it's "forbidden"-->steamy love affair-->acceptance of feelings-->getting caught-->one has to "sacrifice" job or education to be with the other. Thankfully, this book tossed that plotline to the side and did its own thing. And it was awesome!
Harper is studying abroad, hoping for a fresh start after a stale relationship at home ran aground. She is tired of making mistakes in her love life and wants to stay far away from anyone who might become another mistake. But a steamy quickie in a confessional booth proves that sometimes you just can't outrun your naughty side.
Jack is done with women who are perfect on paper. Those relationships always seem to lack the sparks of passion that he desires. So after a fun evening at a friend's party, his mind is left spinning with thoughts of the hot woman who left him wanting more. But when she shows up as a student in his poetry class, he suddenly wishes that he could go back in time and avoid the whole thing. Okay, maybe only a little. Another part of him wants to do it all over again.
Even if Jack and Harper wanted to keep their distance from each other, a poetry project brings them together. However, it's incredibly hard to focus on poetry when you'd much rather make your work partner scream your name. And so a steamy love affair ensues, building into a sweet romance that fills what both Jack and Harper are missing in their lives. But when push comes to shove, the couple have to decide if this fling is meant to be something more.
I absolutely loved this story. The sexy-time started early and continued throughout the book and not a single time did I skim over the love scenes. I love the fact that the leading lady in this book was not a timid woman, scared of her own sexuality. Harper was fully aware of the affect Jack had on her and she met him half way, in the bedroom and out of it.
In closing...
I highly recommend this book if you like forbidden romance stories. This was one spicy read. 5 suns!