Title
: Falling for Trouble
Author:
Sarah Title
Genre/Age
: Romance/Adult
Series
: Librarians in Love Series (Book Two)
Publisher
: Zebra Shout
Format
: ebook via NetGalley
Rating
: ✺✺✺.5
Links
:
Goodreads
Synopsis
:
The riot grrrl and the bookworm--just the pair to get the whole town talking...
Liam Byrd loves Halikarnassus, New York. He loves its friendliness, its nosiness, the vibrant library at the center of it all. And now that Joanna Green is home, the whole town sizzles. A rebel like her stirs up excitement, action, desire--at least in Liam.
Joanna never thought she'd have to come back to her dull, tiny fishbowl of a hometown ever again. She almost had a record deal for her all-girl rock band. She almost had it made in L.A. And then her deal went sour and her granny broke her leg . . . and now here she is, running into everybody's favorite librarian every time she heads to a dive bar or catches up with old friends.
He has charm, he has good taste in music--and the sight of him in running shorts is dangerously distracting. But when he loves her old town and she can't wait to check out, their new romance is surely destined for the book drop...
**Disclaimer: I received a complimentary copy of this book.**
When good boy and bad girl collide...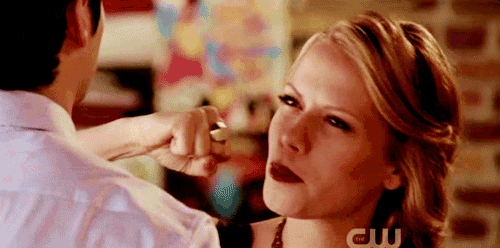 Joanna is going home even though it's the last place she wants to be. Her hometown has never been her favorite part of childhood and the people in her town feel the same way about her, the troublemaker. Her Granny's accident provides a good excuse for being there but soon the truth spreads like wildfire and everyone knows that Joanna's days of being a rock star are over.
Liam is a fan of Joanna's earlier music and he's glad to meet her, even though she doesn't return the feeling. Yet, there is something about her that makes Liam want to try a little harder to break through her tough exterior and find the woman underneath. The woman who has never been treated as anything other than an outcast.
I enjoyed this book, for the most part. Joanna was a complicated character with layers of issues beneath the surface that she needs to work on. One of those is pure immaturity. And she knows it, too, since she realizes how well everyone around her has their lives together while hers is a mess. She had a strange sense of humor but it was entertaining once I got used to it.
Liam's character was actually a nice surprise. He was witty and owned his dorkiness. I like a cute dork and this guy was right up my alley. His altercation with the mayor at the party really gave me more respect for him, too. I love that he appreciated his job and the community he lived in. He slowly wore down Joanna's walls and wormed his way into her frozen heart.
The pacing was on the slower side but fairly steady. Granny was a pretty entertaining character and so were several of the other secondary characters. The town really came to life in this story. I felt terrible for Liam while he fought for the library's funding and I was pretty satisfied with the ending even though it came out of nowhere, really.
The romance element was enjoyable and had a nice dash of spice to it even though it wasn't very sentimental until the end. There were lustful thoughts on both sides from the beginning and the playful relationship was fun to watch blossom. I liked the way our couple bickered and Liam didn't back down from Joanna's stiff personality. It was cute.
But there were a few things that I didn't love. The plot was interesting but the writing was on the wordy side. The internal thoughts became repetitive, at times. There wasn't a whole lot of character development for Joanna here, either. We see a big change in her from the peek into the future with the epilogue but we don't actually see that happen. I didn't even know she had those sort of aspirations since music is her only focus for the entire story.
One other thing that irritated me about this story were the tiny injections of strange and liberal ideals into the story. One of the characters had a thought that was something like "it's a rough time to be a woman in America". Umm, no. Pretty much any time before 1920 was a rough time to be a woman in America, you know, with all of that 'women's suffrage' going on. It was such a ridiculous statement that I actually paused to scowl at the screen. There were other things mentioned that led me to believe that the author is definitely of the leftist mindset. And I hate when politics is injected into a book that has nothing to do with politics. It's a turn off.

In closing...
A good read with a little something extra for such a great librarian hero. 3.5 suns!