Title
: Hot Bachelor
Author:
Katie McCoy
Genre/Age
: Romantic Comedy/Adult
Series
: None
Publisher
: Katie McCoy Books
Format
: ebook via Author
Rating
: ✺✺✺
✺.5
Links
:
Goodreads
Synopsis
:
Dash Hennessy is the hottest bachelor in the country, looking for love in front of an audience of millions… He just wasn't supposed to pick ME!
I just landed my dream summer gig: working as a production assistant on TV's smash-hit reality show, Ever After. Two months of sun and fun at the beach? Sign me up! Until the moment I come face to face with this season's bachelor, racing's bad boy Dash - aka, the mysterious hottie I just hooked up with at a creepy motel off the I-80.
Can you say, awkward?
Dash is sexy, charming - and totally off-limits. But the chemistry between us is way too hot to ignore. He's playing to win, and he's got his sights set on the prize: me!
Soon, the action is heating up off-screen. But between ratings-hungry producers, back-stage drama, and twelve of the most cutthroat glamazon contestants known to womankind, I'm in way over my head. Can I find my happily-ever-after, or will it be lights, camera, heartbreak?
The Bachelor gets a rom-com twist in Katie McCoy's hilarious, sexy new read!
**Disclaimer: I received a complimentary copy of this book.**
This book was a whole lotta fun!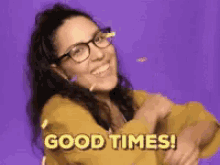 Paige is in a hurry to get to her new job. One that she hopes will be the first stepping stone in a successful career in the television industry. Yes, it's a reality show, but it's a good start. Then when Paige's plane gets rerouted and the handsome stud from first class is stuck being her ride to the Hamptons, she wonders if missing out on this job might be worth it for a night of sin with the hot guy from seat 4C.
Dash is about to start a new gig, too. But he isn't anywhere near as excited about this job as the next available bachelor on a dating show. He's only in it for the money and has no plans to find love in this competition. Yet, he changes his mind when he realizes his travel companion is working on the set. He just might end up with someone special after all.
While I may not be a fan of reality television dating shows, this book definitely caught my interest early on and kept my attention until the last page. It did have its moments of humor but there were serious undertones to the story with Dash's reasons for being on the show and retiring from racing. There is also some scheming and betrayal tossed into the mix. It was a busy plot, for sure.
Paige was easy to like and connect with but I think Dash's character was more developed and layered. The pair were a good match and their chemistry sizzled. The naughty time started early and continued throughout the story. It never got repetitive and I was never tempted to skim the scenes. That's always a positive in a book with a lot of love scenes.
My only problem and reason for docking a half-sun was the ending felt a little too easily wrapped up for me. I expected a little more confrontation or maybe even some sort of fall out. I won't explain why because that would give everything away, but I felt a little like it was missing something. Or maybe it was because the whole book was filled with conflict and the ending was more peaceful so it was surprising. Could have just been me...
In closing...
A fun and flirty read with a colorful cast of characters. 4.5 suns!