Title
: The Right Kind of Rogue
Author:
Valerie Bowman
Genre/Age
: Historical Romance/Adult
Series
: Playful Brides (Book Eight)
Publisher
: St. Martin's Press
Format
: Paperback via Goodreads Giveaway
Rating
: ✺✺✺
Links
:
Goodreads
Synopsis
:
Can two star-crossed lovers come together―until death do they part?
Viscount Hart Highgate has decided to put his rakish ways behind him and finally get married. He may adore a good brandy or a high-speed carriage race, but he takes his duties as heir to the earldom seriously. Now all he has to do is find the right kind of woman to be his bride―ideally, one who's also well-connected and well-funded. . .
Meg Timmons has loved Hart, the brother of her best friend, ever since she was an awkward, blushing schoolgirl. If only she had a large dowry―or anything to her name at all. Instead, she's from a family that's been locked in a bitter feud with Hart's for years. And now she's approaching her third London season, Meg's chances with him are slim to none. Unless a surprise encounter on a deep, dark night could be enough to spark a rebellious romance. . .for all time?
**Disclaimer: I received a complimentary copy of this book.**
Where did it all go wrong? Help me understand!
Have you ever had your wonderful day ruined for no good reason? Like you were going along just fine and suddenly everything just drops off the side of a cliff to crash and burn? Yeah, that's how I felt while reading this book. Super bummer and I'm actually quite sad about it.
This started off so well. I mean it was practically perfect for the first 2/3 of the book. Sure, the secondary characters were a little obnoxious and I occasionally wanted to choke out a character's parent, but everything else was great. Meg was a woman I could root for and Hart made me swoon over and over again. I was completely smitten with this story and the couple.
And then... Dun, dun, dun!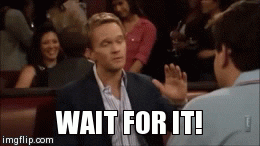 The twist happens, leaving me scratching my head and wondering how it could have gone so wrong so quickly. That was frustrating, to say the least. I don't mind a surprise or two being tossed in, but this one was confusing for me. It left me wondering where my beloved characters had gone. Hart was much too smart to suddenly turn so stupid. And Meg's plan to win his heart was just as terrible. What happened?
I think I just felt like the plot twist was entirely forced and then it drug on. When characters begin to behave in a way that is completely opposite of how they did for the first 3/4 of the book, I wonder if I really knew them at all. And Hart was a lot of things in the beginning but cruel wasn't one of them. I started to genuinely hate his character. Meg's scheming was a bit much as well. As if this wasn't enough, it had to go on for several chapters. In the end, I feel like I fell into a dark hole and I'm still there, sadly.
Does this have a happy ending? Yes, it does. Do I believe the ending is believable after such massive conflict between the couple? Not really. I think the story just turned too dark, too fast and just when I was thoroughly enjoying the light. It's a little depressing, to be honest. I wasn't prepared for it.
Maybe this was a case of hating to see characters that I adored have to suffer for reasons that I can't understand.

In closing...
I want to believe that this is an isolated incident and that other books in this series will leave me smiling. I'll have to read them to find out. Three suns!