Title
: The Scoundrel's Honor
Author:
Christi Caldwell
Genre/Age
: Historical Romance/Adult
Series
: Sinful Brides (Book Two)
Publisher
: Montlake Romance
Format
: ebook via KindleUnlimited
Rating
: ✺✺✺
✺
✺
Links
:
Goodreads
Synopsis
:
Thanks to her older siblings, Lady Penelope Tidemore is no stranger to scandal. In order for her to make a good match, her secret longings for intrigue and romance
must
be quelled. Yet it is through terrible mischance that Penelope is caught in a compromising position—however innocent—with the darkly enigmatic viscount Ryker Black.
Mr. Black is no gentleman. Raised from the streets and proprietor of the most notorious gaming hell in London, Black lives in a world filled with debauchery and danger. Taking a Society wife from the very ton he despises is
not
part of his plan, even if the innocent Penelope turns his blood hot with desire.
But Penelope isn't afraid of Mr. Black, and she soon discovers that his reputation as a scoundrel may be designed to hide a surprising vulnerability. As this unlikely husband and wife grow closer, they learn that what started as chance could end up sealing their fates.
**Disclaimer: I received a complimentary copy of this book.**
Oh, yes. Give me some more of him.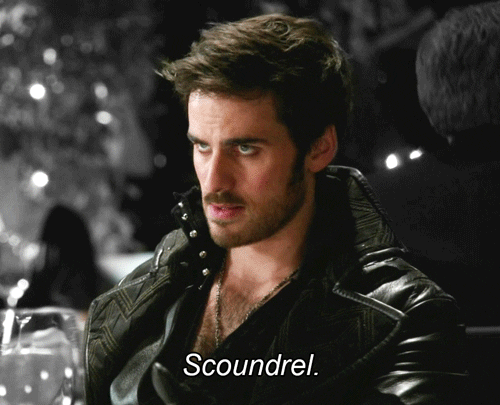 When Penelope gets caught in the arms of the one titled gentleman who she can't possibly see herself marrying... well, she finds herself getting hitched to him anyway, to save her family's reputation. And moving into a gaming hell with a man who despises her isn't exactly the honeymoon she was hoping for.
Ryker never intended to marry. His entire life is devoted to his business and he doesn't have time for young women and their fanciful dreams of partnership and romance. But for some reason, he can't help but be drawn to the wife he's suddenly become saddled with. And just when he starts to open up to her, danger could threaten to take her away.
Since I've read the next two books in the series, I knew where Ryker would end up. But let me tell you, the person he is at the beginning of this book and who he is by the end are night and day. I was excited to see just how this transformation occurred and who the lucky lady was who caused it. I wasn't disappointed in the least.
Ryker's hardened persona was a little tough to swallow at first. He's crude and seems pretty callous to our dreamer Penelope. Their wedding was cringe-worthy. I'm not sure if I've ever held my breath as much as I did while reading this book. Because it seemed like every time our couple made a step forward, they would be knocked back two steps right after. It was an exhausting battle to get to the finish line, but totally worth it.
Penelope wasn't what I was expecting. She was a little quirky, and I can admire that in a heroine. She wasn't the stuffy and proper lady that I thought she'd be. And while I've complained in this series about the men seeming to be cut from the same cloth, the ladies all have more varied personalities. Penelope was a girl with big dreams and a bad sense of timing.
This couple were complete opposites, yet they worked really well together. They had steamy chemistry and those stolen kiss scenes left me breathless and grinning like a fool. I just hate that Ryker's brothers were so against Penelope. If I hadn't known their stories already, I wouldn't have liked most of them much by the end of the book.
In closing...
I'm still confused as to whether Adair will get a book and find a match. But this one was a win for me. Five suns!