Title
: Edges
Author:
Kenzie Macallan
Genre/Age
: Contemporary Romance/Adult
Series
: Art of Eros (Book Two)
Publisher
: Steel Butterfly Press
Links
:
Goodreads
Synopsis
:
Leigha Luccenzo is a strong, confident woman who has her life perfectly under control. But her nightmares have returned after a long absence. They are kept hidden from everyone. She comes home to find her apartment in shambles, the possible doing of her ex-lover Sydney. Layers of lies start to peel away. Her world begins to shift and unravel.
Dean is a hard edge man who has an appetite for beautiful women, fast bikes, and shattered souls. His secrets bind him, keeping him from any real relationship. They latch onto him from his past like locked chains. He sees behind Leigha's armor. Convincing her he can help becomes his mission. He hopes she's strong enough to handle what lies beneath, unlocking his guilt.
Through events out of her control, Leigha's forced to face her demons.
As other people's secrets get entangled in her own, she struggles to get to the meaning of her nightmare. Can Dean help her uncover her truth?
---
He said something to Leigha in a language she didn't understand. His eyes glassed over. "My little angel," he repeated in English.

Her nerves came undone at the sight before her. Was this the him her father warned her about? She tried to mask her fear. "How can I help you?" Her soft voice didn't carry far in the empty space.

He stretched out his hand, motioning her to two chairs. "Please, come. Sit down. We have much to talk about. I mean you no harm."

"Who are you?" The words forced out of her mouth of their own volition. She started to freak out. Her hands shook as she smoothed them over the top of her head.

She had no choice. The option to run left the minute his men locked the door to the studio. Something poked from the back of her brain. His face seemed familiar somehow, but she couldn't quite place him.

They sat down across from each other in two oversized chairs. He leaned into her space with his forearms on his knees. Caging her in, he demanded her full attention. His eyes had lost their glassiness. He looked at her like a rare piece of artwork, tilting his head to the side.

"I have only ever seen you from a distance. You are even more beautiful up close." He raised his hand to touch her face but then let it drop.

Jesus, he was a stalker.
Five Favorite Movie Scenes
Rain Man starring Dustin Hoffman and Tom Cruise. This is one of my favorite movies of all time. The scene that gets me is when they are in the bathroom and Charlie (Tom Cruise) discovers that his childhood "Rain Man" is actually Raymond (Dustin Hoffman) his older brother. He realizes why Raymond was put in a mental institution. There is so much given to the viewer in so few words. There are quiet moments where two souls recognize each other again. Then the silence is broken as we get a glimpse into the world of Raymond. Your heart breaks for both of them as they struggle to understand each other for the rest of the movie. I love this movie for all the things that are not said which is attributed to not only the great actors but the director Barry Levinson as well.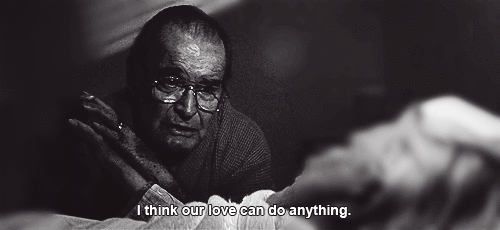 The Notebook- Every romantic out there is familiar with this movie. I'm a huge James Garner fan. I loved the end of this movie when you find out he's telling Ellie their love story with all the strife and complications. All through the movie you are kept guessing how it all ends up. I always enjoy the element of guessing whether I'm reading a book or watching a movie. Lately, there seem to be very few movies out there that keep you guessing especially romances. This is a classic.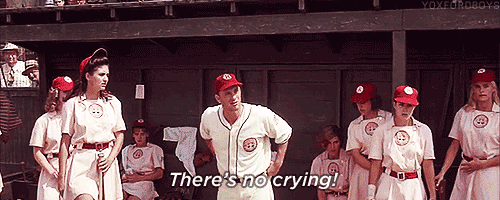 A League of Their Own- This movie had so many great elements to it. There is a scene that gets to the heart of the differences between men and women. Tom Hanks yells at one of the players (Evelyn) and tells her there's no crying in baseball. There's a great use of sarcasm throughout this movie and I think we laugh at this scene because it's so typical. Women feel bad, they cry; men feel bad, they get angry. As the movie goes on you begin to see a change in how he deals with the players on his team. There are many overriding messages through out the story. But the one that stands out is that men and women can change to understand each other better.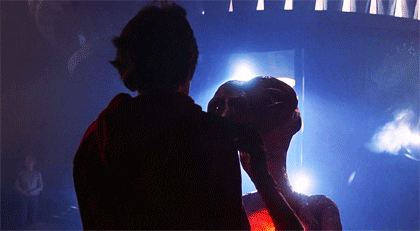 E.T.- As much as this movie was suppose to be for kids, I think adults got a lot more out of it. There is a moment when Elliot says good-bye to E.T. that will be a classic, forever. I don't think there is ever a dry eye in the house. It's the brilliance of Steven Spielberg to downplay the moment. Everything in that scene comes down to facial expressions. The anguish of Elliot isn't reflected in the innocence of E.T. Where E.T. understands and welcomes the fact that he has reached his goal, Elliot sees it as only an ending. Sometimes the most powerful moments are the quiet ones. They are the thread that holds the quilt together.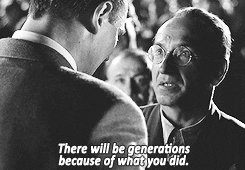 Schindler's List- There is a scene at the end of the movie when Oskar Schindler sees all the people he saved during the war. He completely implodes emotionally surrounded by those he saved. You're left wondering many things. Is he heartbroken because he didn't save more? Is he struck the realization of what he accomplished in his factory? Has the horrific events of the war finally caught up with him? I love not really knowing what he's thinking. It allows viewers to come away with their own understanding of all the events in the movie. Once again it's the brilliance of Steven Spielberg that comes shining through.
Kenzie lives with her husband in New England. She has been fortunate enough to travel all over the world to places like Africa, Greece, Switzerland, Holland, France, England and, of course, Scotland. Edinburgh is one of her favorite places. Creativity seems to be part of her soul as she paints portraits, takes photographs, and bakes. They have all added to her overactive imagination especially writing about strong women and alpha men. She looks forward to adding to her adventures and yours through secrets, strength, and passion.
Links:
Buy Links:
Book is $0.99 during the tour!
a Rafflecopter giveaway