Title
: Marital Duty
Author:
Ingrid Hahn
Genre/Age
: Historical Romance/Erotica
Series
: None
Publisher
: Loose Id
Format
: ebook via The Romance Reviews
Rating
: ✺✺✺
✺.5
Links
:
Goodreads
Synopsis
:
Marital duty has never been so satisfying...
Each morning while pretending to be asleep, Evaline St. John, Lady Kingston, submits to her husband's attentions. She can never dare admit she yearns for more...until her friend Selina, Lady Beaumont, initiates a conversation about what she does with her own husband in the bedroom.
But Selina is bored with her intimate life and suggests that she and Evaline seduce their husbands. She will begin while Evaline will hide in the bedroom to watch. Evaline and Selina do more than make a pact, however. They give in to unspeakable desires and soon they are exploring each other's bodies as they always dreamed.
When Evaline is forced to confess her misdeeds to her husband, Lord Kingston, he is shocked, but also aroused. The admission changes everything he believed about his wife--for the better. Now, whatever Evaline demands, he happily delivers.
Evaline and Selina realize they are falling in love--with each other--yet they still love their husbands. What are the two women to do?
When Selina's husband catches all of them together in bed, he flies into a jealous rage and forbids them from ever seeing each other again. Now, it's up to Lord Kingston to issue the ultimatum to Beaumont: come to their bed or lose them forever. Kingston must show his former friend that he has nothing to fear...and everything to gain.
**Disclaimer: I received a complimentary copy of this book.**
A wicked fun romp in the historical hay!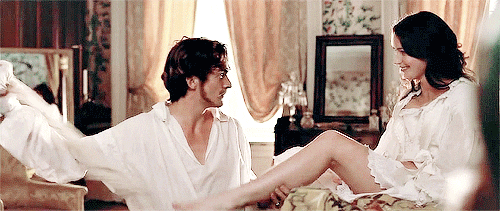 Evaline has developed a girl crush on the wife of her husband's best friend. Since her own love life at home with her husband is lackluster, she wonders what it would be like to share passion with a lover. Selina returns the affection and the two soon find themselves as in love with each other as they are their husbands. But now they have to decide what to do about it.
A leap of faith leads to a naughty game of hide-away while Evaline watches Selina seduce her husband. After confessions are made all around, the four consider giving in to their fantasy and enjoying the company of each other. Yet, Selina's husband isn't on board with participating in something so outrageous and against the norm of society. It may take another scandalous event to bring them together for good.
This book was a whole lot of fun. It's not all that easy to find an erotica heat level book in the historical romance genre. But when I do, they're usually pretty awesome reads. This one was too and offered a wide variety of sexual encounters between our two couples. The romance was boiling hot and the characters were nicely written so that even with the shorter length, I feel as though the story was complete and satisfying.
I do think the conflict went on longer than I would have preferred, especially for such a short read. One of our characters is against the idea of the foursome and protests a bit too much. I don't mind a little confusion and denial, but this guy made me want to chuck him out of the group and tell him 'good riddance'. It's a small complaint, really. Everything else was great.

In closing...
I wonder what else this author has to offer in the way of historical erotica. 4.5 suns!