Title
: Black Bullet
Author:
L.D. Rose
Genre/Age
: Paranormal Romance/Adult
Series
: Order of the Senary (Book Two)
Publisher
: Soul Mate Publishing
Format
: ebook via Author
Rating
: ✺✺✺
✺
Links
:
Goodreads
Synopsis
:
He had everything under control until she crashed into his afterlife...
Fledgling vampire Jonathan Kerr has just met his match.
Not even his past life as a former Marine and FBI agent could prepare him for the battle against the monster inside him, struggling to take hold. After an old nemesis of the Senary surfaces in Brooklyn, unleashing chaos and terror in the battered borough, Jon sets out to take him down. Instead, he ends up with far more than he bargained for when he clashes with the beautiful half-vampire hybrid, Lawan Knight.
After escaping near death and suffering unspeakable horror at the hands of vampires, Lawan trusts no one, regardless of species. In between bouts of drunken stupor, her only goal is to exterminate all those who've wronged her, including every member of Jon's vampire bloodline. But Jon's soulful eyes and quick smile crawls under her skin, transforming her black and white world into a hazy shade of gray.
As the days rapidly grow darker, Jon and Lawan turn to one another, but their inner demons threaten to tear them apart. The only way either of them will survive is if they overcome their greatest fear--
Love.
Book 2 in The Order of The Senary Series.
*First Place Winner of the 2017 RWA Gayle Wilson Award of Excellence for Paranormal and Fantasy*
**Disclaimer: I received a complimentary copy of this book.**
A lonely vampire slayer learns to love again.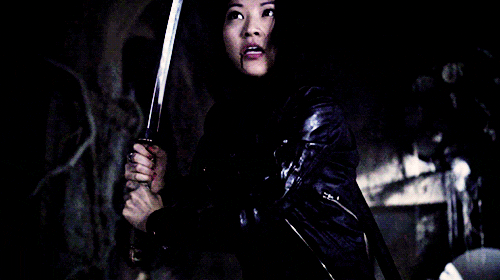 Jon isn't your average vampire slayer, since he's technically a vampire as well. He's different from the other hybrids in his group and he still hasn't come to complete terms with the monster he has now become. When he comes across a woman on a quest for vengeance, he is intrigued by the mysterious warrior. It's too bad that she hates him before she even knows him, simply because he's a vampire.
Lawan is on a mission to take out as many vampires as she can before meeting her end. But there is one in particular that she wants to rip in half. The same cruel leech who tortured her and left her with scars that can never heal. And even though she doesn't trust vampires, there is one who she can't seem to shake. The vamp who isn't really a vamp. The man who is starting to convince her to come out of hiding and begin to live again.
Overall, I think that this book was a bit darker than the first one. Yes, the characters all had a tragic and brutal past, which is thoroughly explored throughout the story. But also, the tone of this book was more somber than the last. Blaze had a streak of humor which Jon doesn't. We do get a nice scene when Lawan meets the group, which lightened the mood for a while.
Despite the serious nature of the story, I really enjoyed it. Jon was a mystery to me in the first book. I wasn't quite sure what sort of character he would be. And he's quite the complicated fellow, to be honest. I knew he was a vampire (sort of) and struggled with that part of his identity, but I definitely wasn't expecting him to have another voice in his head. That was an interesting twist.
Lawan was another complicated yet well-developed character. That's something you can expect with this series. Flawed and realistic characters, despite their supernatural quirks and abilities. The environment in this book was reminiscent of a horror movie and the whole thing had a spooky feel to it. I kept getting flashes of the movie
The Crow
in my mind while reading this. The carnival scenes, especially.
As for the romance, it's a slow burn. And it needed to be because our heroine has some serious trust issues to overcome. Even Jon's relationship with the cat took time to evolve. But when the fireworks did happen, that was one steamy scene that was highly impressive. This pair's relationship was different, but in a good way. They were a good match.

In closing...
I'm curious to see who in the group will fall next. Four suns!