Title
: Totally Devoted
Author:
E.M. Bannock
Genre/Age
: Contemporary Romance/Adult
Series
: None
Publisher
: 5 Prince Publishing
Links
:
Goodreads
Synopsis
:
Ten years after the death of her husband and young son, Marie Trousdale desides to move
from Los Angeles, California to a small rural Oregon town and hires Wil Townsend, a
local contractor, to build her dream home on property she inherited from her deceased husband.
Although they couldn't be more different in every way possible the two fall in love. Things
get complicated when Marie changes occupations. When she is put in danger Wil must decide if his love is stronger than the differences that separate him from Marie.
---
It had been a long time since Marie had been held in the arms of a man. His strong embrace warmed her like a safe and secure blanket. She believed him. It would be alright. She didn't know how or when. But she knew in her heart that one day, it would be. She was so close to him that she could smell his manliness. It was a mixture of pine and sweat and horses. It was a fragrance both new and exciting to her. He was surprisingly gentle as he pushed her hair away from her tearstained face. After a few minutes, she stopped crying. Wil held her face in his hand and turned it up to his.

"Feel better?" he asked tenderly.

"Yes, thank you," she replied meekly. "I'm sorry. I'm not usually so emotional around strangers."

"No," he said sincerely. "I'm the one that's sorry. I've been ridin' you pretty hard."

She looked deep into his eyes. He really means it, she thought. For a moment, she lost herself in his intense gaze. They were so close that she could feel his heart beating in his chest. She felt the urge to kiss his lips. She wondered if he could feel the electricity of the moment. She hoped he could. She closed her eyes and waited.
Five Favorite Movie Scenes
First of all I'd like to thank my host from "Up 'Til Dawn Book Blog" for inviting me to be a guest blogger and an opportunity to promote my just released book, Totally Devoted. I've been asked to list my five favorite movie scenes of all time and why. So, here it goes.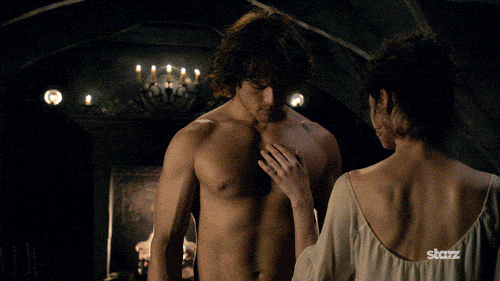 Number one of all time is really a scene from the Starz series Outlander. I love every episode of its three seasons. It's based on the books of Diana Gabeldon and they stay close to the book plot. My very favorite is the scene from the first season, The Wedding episode when Claire and Jamie are discovering each other's bodies on their wedding night. It's incredibly tender and sexy. It contains nudity but it's done so tastefully that it's not gratuitous; although Jamie is easy on the eye. For anyone who is familiar with the series they know that it was an arranged marriage, luckily they are both attracted to each other. Jamie is a virgin, Claire is not. She's actually a widow. The Outlander series is a love story. And I think love is the base need we all have and share. The love that Jamie and Claire have for each other is strong and true and it's continually tested in all kinds of mental and physical ways, much like the love between Marie and Wil in my book. I think that is what keeps readers turning the page. It's all about desire and individuality and the joy of finally finding true love. My book was written before I read the 8 books in the Outlander series but the strong love between the characters and the independent female lead, reminded me of my lead character, Marie. I'm just a romantic at heart. Need I say more?
Number two would be the end of The Notebook. The whole movie was a beautifully woven love story that keeps you rooting for Noah (Ryan Gosling). The older version of Noah and Allie, as played by James Gardner and Gena Rowlands is so touching that it brings tears to my eyes just thinking about it. Love is a powerful force. Very few movies have moved me so emotionally as the end of that movie when they both pass away. Love lasts a lifetime and beyond. Everyone is searching for that kind of true love, their soul mate, the one person who, when you meet them, you know in your very being that you were meant to be with him or her. That's the kind of love I tried to portray in Totally Devoted. A love that is blind to everything and everyone else. A love filled with desire, passion, and need.
Number three is the bathtub scene in The Bridges of Madison County when Robert (Clint Eastwood) is painting Francesca's (Meryl Streep) toes. It's so subtle and sexy it gives me goose bumps. I'm a sucker for romance and men who aren't afraid to do things to please their woman. That movie was incredibly sexy in a tender sort of way. What she did was wrong but, oh my goodness, it felt so right.
Number four is just a short scene from Outlaw Josey Wales when Lone Watie (Chief Dan George) is talking to Josey (Clint Eastwood) about his experience in being 'civilized' by the white man and he pulls out a piece of rock candy. He holds it up to the light and says "It's not for eatin'. It's just for lookin' through." It's a seemingly meaningless scene when pulled out of context but as it fits into the whole movie it is a subtle statement regarding the treatment of the Native American. It's a white man's perception of the indigenous people's values and way of life and the white man's supposed superiority over them. This old man has taken it all in stride, the pain, the humiliation, the sorrow, all the time holding in his resentment and knowledge of the foolishness of the white man's attitude. I find it sad and entertaining at the same time. Does that sound weird?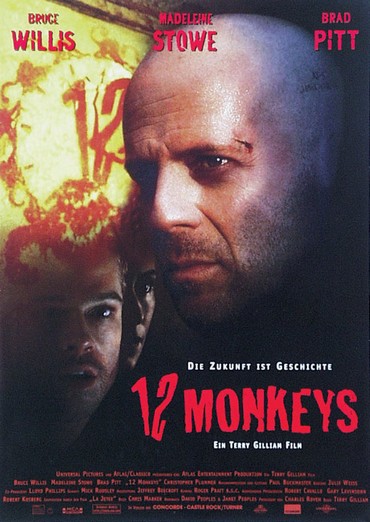 Number five is the scene in 12 Monkeys, right after Jeffery, the Brad Pitt character, is in the organization headquarters and the other members confront him after, Kathryn, the Madeleine Stowe character, spray paints the warning message about how many people are going to die because of the upcoming incident on the side of their building. Jeffery is asked how she knows about the prank they are planning. He goes on a rant about how when he was in an asylum she was his therapist and while there he was hooked up to a machine that was able to use formulas and calculations to figure out every thought and every action he would ever have or do. It was an Oscar winning performance if ever there was one but poor Brad never even got mentioned.
I'd like to thank my hosts at Up 'Til Dawn Book Blog and invite you all to read my sexy, romantic, adventure book, Totally Devoted. I think you just might find that Marie and Wil's hot, passionate love can heat up a night as well anybody.
ComingE.M. Bannock was born in 1950 and grew up in the Detroit suburbs. Her love for writing began during high school where she excelled in writing short stories and poetry. Born with the wanderlust, she found herself in Los Angeles, an exciting place to be in the early 70's, and E.M. experienced all that it had to offer. It was here she met her husband. She has lived in California, Oregon, Alaska, Florida, and Wyoming, where she now lives with her husband, son, daughter-in-law, grandson and a menagerie of cats, dogs, chickens, and horses.
Links:
Buy Links:
a Rafflecopter giveaway