Title
: Hot Daddy
Author:
Lila Monroe
Genre/Age
: Contemporary Romance/Adult
Series
: Billionaire Bachelors (Book Two)
Publisher
: Lila Monroe Books
Format
: ebook via Author
Rating
: ✺✺✺
✺
✺
Links
:
Goodreads
Synopsis
:
Welcome to the Billionaire Bachelors series, where the sexiest men in the city are about to meet their match…
Playboy CEO, Cal McAdams, lives life in the fast lane: hot women, hotter deals, and… a fake fiancee? I signed on to help reform his reckless image and win custody of his god-children, but I wasn't expecting to come face-to-face (and mouth-to-mouth) with my wild Vegas hook-up from three years ago.
AKA, 6"3 of tanned muscle, sharp suits, and 'undress me' eyes.
AAKA, the best thigh-clenching, bed-shaking sex of my life.
AAAKA, the man who couldn't be more off-limits if he had a uranium belt wrapped around his, um, assets.
I've never been one to break the rules, but Cal has me wanting to rip them up - and roll around naked on the scrap paper. But with just three weeks to turn this bachelor into a DILF, can we keep our crazy chemistry from derailing his plans? Or will gold-digging relatives, rambunctious pre-teens, and a little thing called love leave us both crashed out of the race?
Find out in the new sexy, hilarious romantic comedy from Lila Monroe!
**Disclaimer: I received a complimentary copy of this book.**
When your fake relationship turns into a real family.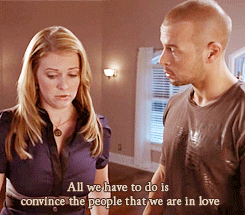 Jules may have just tanked her job at a law firm. And she also might have signed up to become a billionaire's fake fiance in order to earn some quick cash to hold her over. Worse, she just realized that the man in question is none other than the hot fling she had in Vegas a few years ago. Yikes.
When Cal found himself suddenly taking care of his two godchildren, he realized just how terrible his playboy lifestyle must seem to the judge who is residing over his custody case. Enter the agency which just gave him a last-minute fiance to help his image. It's just a surprise when he discovers the woman sent to save his behind is the same hot one-night-stand he still thinks about.
It's an adjustment for the pair to get to know each other while trying to create a stable environment for the children. And just when the strange new little family starts to come together and Cal realizes he wishes this could be permanent, a bombshell is dropped and the couple have to decide just how much they want their fantasy life to become reality. Only if they're willing to fight for it.
This was a fantastic installment to this series. I wasn't sure about Cal from the glimpse we got of him in the first book, but I was pleasantly surprised by him here. He was so wonderful with those kids. It melted my heart. And he was great with Jules, as well. I hate the way the rug was pulled out from under them, but I actually love the way they came back together. It felt real and believable.
The romance was hot, something I expect from this author, and I wasn't disappointed in the least. I think the couple knowing each other in the past helped to keep the story from feeling off, considering it really was fast-paced. We got some humor and a lot of naughty fun. There were a few sweet moments and an overall warm family feeling. This was a great book.
In closing...
Olivia's story is next and I get the feeling it's going to be explosive. Five suns!