If a gold medal was awarded for Worst Day Ever, Laney Calderone would win it today, hands down. She's just discovered she's pregnant, her fiancé abruptly dumps her when she tells him, and her new car refuses to start as a brutal snowstorm hits Toronto.

Good Samaritan Tyler Hammond offers to take her home; however, with the heavy snow falling and his patience dwindling, Laney's gold medal day isn't over yet.

Storms intensify both outside and in as Laney finds herself inexplicably attracted to this tall, dark and very handsome but infuriating stranger.

Can Laney fight her unwanted yet increasing desire for this man long enough to get through the relentless storm? And will Tyler let her walk out of his life as easily as she came into it?
---
Laney slammed the door shut then lifted the hood. Now, she thought, what exactly is it I'm supposed to be looking for? Her eyes roamed the assorted engine circuitry wishing she could see a flashing neon sign with the words Push this Button to Restart Engine.

No such luck. The heavy, wet snow covered the engine and she shivered again trying to brace herself against the powerful squalls.

"Need any help?" a deep voice penetrated the howling wind.

Laney heaved another sigh as she looked up and saw someone approaching. "No, of course not!" she snapped, in no mood for stupid questions. "I often come out here late at night during raging blizzards to study the complexities of my car engine! Would you like to join me? Perhaps later we could pop into the coffee shop down the street for a latté and scone, just to finish the evening off right."

A low chuckle escaped the stranger's lips. "All right, as you seem to have the situation under control, I'll leave you to it. Goodnight."

"Wait —" Through the swirls of snow Laney was now very much aware of the man approaching. Her eyes took in his massive shoulders hidden beneath a black leather jacket, and as he got closer, her gaze wandered higher taking in the full lips creased in a smile, a finely chiselled nose and steel grey eyes that seemed to be twinkling, then thick, dark curls which refused to be flattened by the huge, wet flakes.
Five Favorite Movie Scenes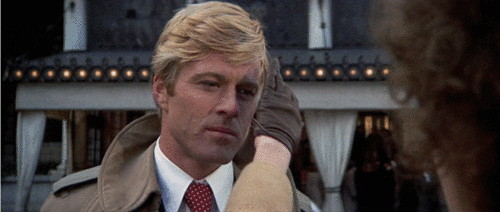 My top favourite movie scene of all time is the final, touching scene in The Way We Were. When they meet in the street and Katie brushes the hair from Hubbell's forehead, it makes me cry. It's so sweet and sad and you just know they still love each other, but just can't live with each other. It's a love story without the happily ever after, but I still wish for it, every time.
My next favourite movie scene of all time is the walk down the lane scene with Elizabeth Bennett and Mr. Darcy from the 1995 version of Pride and Prejudice. He still loves her, and she's now come to love and appreciate him, and it's just glorious to watch his reactions as she bursts with joy and tells him her feelings for him have done a complete about face. So romantic!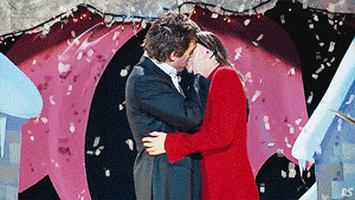 I love the scene at the end of Love Actually, where the Prime Minister kisses his junior staff member on the stage at the school Christmas concert. He's so intent on keeping this wonderful lady to himself, for many reasons, so to see the curtain go up on their kiss is wonderful, comical and romantic.
Another favourite movie scene is in Bridget Jones' Diary when Mark Darcy arrives at Bridget's' place and he helps her make a birthday dinner (including blue soup). They're still getting to know each other, and their joy at being alone together is touching and delightful. And when they're sitting down to this 'delicious' dinner with her friends, the look of love on his face when he glances over at her is priceless.
Bernard and Lydia's wedding in Four Weddings and a Funeral always cracks me up. Rowan Atkinson's performance as a minister in training steals the scene. What is supposed to be a joyous yet serious occasion goes off the rails with his verbal miscues, including mispronouncing both the bride and groom's names, as well as mucking up quotes from the bible during the service. It's hilarious.
Can I keep going? Oh! You only wanted five? Okay then, maybe I can come back soon and do this again! Thanks for having me, I enjoyed my visit!
Born in England to a Monty Python-loving dad and a Lawrence Welk-loving mum - tea drinkers all - we moved to Canada when I was seven. "Say book, say look" my new classmates would hound me just so they could have a good chuckle at my accent. But being incredibly shy, this was a great way for me to make friends.

My love of words and a creative imagination prompted English teachers to urge me to write for a living, especially after I got a letter from the Prime Minister who thanked me for writing to him! So cool for a twelve-year-old!

Through the years, I wrote while I earned a living as an Administrative Assistant in various companies; then I owned a Wedding Coordination business for six years (talk about romance!), all the while being happily married to the love of my life.

These interesting jobs plus wedded bliss gave me oodles of ideas for romantic plot lines, tall, dark and handsome heroes and feisty, beautiful heroines, and, of course, the happily ever afters.

I currently live in Mississauga and spend time with family and friends, and struggle daily with the wine and chocolate that somehow magically appear in my house...

And, amidst the endless cups of strong tea, while the dead parrot sketch and Cole Porter songs whirl around in my brain, I write. I will always write romances because I love creating fascinating characters whose lives I can make completely miserable before I give them their happily ever after.

Victoria
Social Media Links:
Buy Links:
a Rafflecopter giveaway