Title
: Shadow Bloodlines
Author:
A. R. Cooper
Genre/Age
: Fantasy/YA
Series
: The Shadow Bloodlines Series (Book One)
Publisher
: Self-published?
Format
: ebook via YABound
Rating
: ✺✺✺
Links
:
Goodreads
Synopsis
:
I didn't know I was a shifter until the hunters found me…
When eighteen-year-old Beth receives a mysterious text from her deadbeat father not to go to school, why should she listen to him now? But when strangers show up in one of her classes hunting her and wanting her dead, she must uncover the truth about why and what exactly she is.
Amar has been entombed in stone for centuries. He longs for freedom and only the blood of a shifter will set him free. After centuries frozen as a gargoyle, he doubts there are many of his kind left. Yet, Beth rescues him and more than his responsibility to protect her fills him. He must choose between duty and love.
Before the race of hunters capture her, Beth and Amar must find her shifter dad in order to save all their lives.
**Disclaimer: I received a complimentary copy of this book in exchange for honest review.**
This is definitely a YA novel. I had been reading adult-aged books, lately. When I picked this one up, I was not mentally prepared for YA and that might have played a small part in my reading experience. However, even though there were things I disliked about this book, I am still interested in continuing the series, if only to see more of this curious world of shifters.
Had I not checked out the author, I would have thought that this was a debut novel and I would probably be more forgiving. Much about the writing was a struggle for me. It is told in first person, yet I wish the author had italicized direct thoughts or found some way to separate them because there is a narrative present that is conflicting with Beth (main character). It may not be a problem for people who prefer first person, but I had to remind myself, at times, that we were supposed to be inside Beth's head.
Speaking of being inside this teenager's head... Oh, geez. I would have definitely been happier with a third person POV. Listening to this girl's thoughts repeating over and over...
I hope I wasn't as immature when I was a teenager. Your mother is likely dead and you've just been nearly killed and rescued by a stranger (with wings!), yet all you can think about is how much you want to kiss this dude that you don't know? Hormones aside, I would think that the lust could subside until you've escaped eminent danger. Yet, the urge to kiss him continues throughout the story.
And when she finally manages to locate her absentee father, Beth cannot control her rage long enough to talk to him. She storms out of nearly every significant conversation with her father. And because of it, we (the readers) are left with open-ended questions and zero understanding of how this mess came to pass.
Beth is supposed to be eighteen, which is an adult. I hope (and expect) that Bethany will grow and mature as the series goes on. She will have to, if she stands any chance of surviving when so many people are after you.
Besides Beth, we also have Amar, our gargoyle in shining
armor
wings. (Check out book cover below for vision of this handsome devil!) And I like him, mostly. Except, I was a little bothered that he acclimated to the twenty-first century a bit too easily.
For a guy who has been frozen as a statue for over four thousand years, he seemed to be able to understand and accept the modern society around him without much of a problem.
Amar did mention something about riding in a
chariot
car and was mesmerized by a tv, yet he didn't say anything about the strange clothing or weird food. I think the author missed some good opportunities for humor there. Seeing a man trying to figure out how to wear modern clothes or understand a cheeseburger might have been entertaining. I guess we'll just have to imagine it. This book could definitely have done better with a bit of humor. It can't be evil villains and near-death situations the entire time. I would have liked to see some more adorable confusion.
For some reason, Encino Man just comes to mind.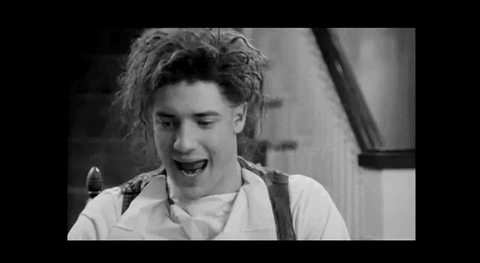 I found the romance to be premature and would have preferred to see it slowly build over the series. But to be honest, since this is a YA novel, I didn't expect anything else. Teenagers fall in and out of love at the drop of a hat. Or at least, we're led to believe that they do. So it isn't any different in this story. I can forgive it, since I did find the shifter angle to be interesting enough for me to want to continue the series.
In closing...
I will keep an eye out for the next book, later this year. And I hope that the characters grow from one book to the next. My fingers are crossed. 3 suns!
P.S.
Second book in the series, Deadly Bloodlines, is set to be released in September 2016!