Title
: Suddenly Engaged
Author:
Julia London
Genre/Age
: Contemporary Romance/Adult
Series
: Lake Haven Series (Book Three)
Publisher
: Montlake Romance
Format
: ebook via Tasty Tours
Rating
: ✺✺✺.5
Links
:
Goodreads
Synopsis
:
Single mother Kyra Kokinos spends her days waiting tables, her nights working on her real estate license, and every spare moment with her precocious six-year-old daughter, Ruby—especially when Ruby won't stop pestering their grumpy next-door neighbor. At first glance, Dax Bishop seems like the kind of gruff, solitary guy who'd be unlikely to offer a cup of sugar, let alone a marriage proposal. But that's exactly what happens when Ruby needs life-saving surgery.
Dax showed up in East Beach a year ago, fresh from a painful divorce and looking for a place where he could make furniture and avoid people. Suddenly his life is invaded by an inquisitive munchkin in sparkly cowboy boots—and her frazzled, too-tempting mother. So he presents a practical plan: his insurance will help Ruby, and then they can divorce—zero strings attached.
But soon Kyra and Dax find their engagement of convenience is simple in name only. As their attraction deepens, a figure from the past reappears, offering a way out. Can Kyra and Dax let go so easily—or has love become a preexisting condition?
---
Dax opened the door. He glanced over to Three. The Subaru was gone, and he couldn't help wonder who was driving that massive red truck. A husband? A dad? Jesus, he hoped the guy wasn't the chatty type.
Hey neighbor, whatcha working on over there?
Yeah, no, Dax was in no mood for more neighbors or barbecue invitations or neighborly favors. But it was becoming clear to him that little Miss Ruby Coconuts was going to make his policy of isolationism really difficult.
Dax got dressed and went out to the shed to work. A few hours later he walked into the kitchen to grab some rags he'd washed in the sink and happened to look out his kitchen window.
The redheaded devil was hanging upside down off the porch railing of her house, her arms reaching for the ground. She was about three inches short, however, and for a minute Dax was certain she would crash headlong into that flowerbed and hurt herself. But she didn't. She managed to haul herself up and hopped off the railing. And then she looked across the neat little lawn to Dax's cottage.
"Don't even
think
about it," he muttered.
Ruby hesitated. She slid her foot off the porch and onto the next step down. Then the other foot. She leapt to the ground from there, looking down, admiring the lights in her shoes. Then she looked up at his cottage again.
"Don't do it, you little monster.
Don't you dare do it.
"
Ruby was off like a shot, headed for the fence.
Julia London is the
New York Times
,
USA Today
, and
Publishers Weekly
bestselling author of more than forty romance novels. Her historical titles include the popular Desperate Debutantes series, the Cabot Sisters series, and the Highland Grooms series. Her contemporary works include the Lake Haven series, the Pine River series, and the Cedar Springs series. She has won the RT Book Club Award for Best Historical Romance and has been a six-time finalist for the prestigious RITA Award for excellence in romantic fiction. She lives in Austin, Texas.
a Rafflecopter giveaway
**Disclaimer: I received a complimentary copy of this book.**
Two lonely people learn to love again.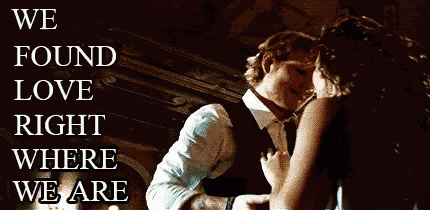 Dax isn't interested in dating anymore. After his ex-wife left him, he hasn't been in the mood for much of anything these days. He stays holed up in his house, making furniture to sell locally. And he does his best to ignore the new neighbors next door. Both the incredibly attractive mother and the stubborn-headed little girl who won't stay in her own yard.
Kyra just wants to make it through the day without any mishaps. After becoming a single mother seven years ago, she is finally starting to make a little traction in her life. And the handsome grump next door is even looking like something she might want to sample. But when her daughter's health is in jeopardy, hopes of romance are put on hold. Kyra has to decide if she can sacrifice building a steady relationship with Dax for the convenience of marriage.
I'm a little unsure how I feel after finishing this book. On one hand, I thought the first 70% of the book was fantastic. The beginning was entertaining watching a grumpy Dax try not to fall for the bubbly Ruby and her crazily adorable antics. He was so blinded by his dark cloud that it took her bright personality to break through his shell. It was cute to watch.
I even really enjoyed the pairing of Dax and Kyra. The man who never offers a helping hand becomes a white knight without really trying. And the woman used to doing things for herself begins to give up some of the control. They each helped the other to learn to love again. The dialogue was witty and the romance was heated, if not a little on the tame side.
I think my first issue with the story came with the proposal that wasn't really a proposal. From the title, you might expect a couple to become engaged for the wrong reasons but fall in love anyway. It was sort of like that but not really. I kept waiting for the engagement to happen and when it did I was a little unsure of how I felt about it by that point.
Then the story went a little downhill for me. It was one depressing thing after another and I started to wonder if I was reading women's fiction instead of romance. The long breaks toward the end of the story were a problem since it made the pacing slow way down and start to drag. Dax continued to question whether he wanted to stay there or move away. I started to wonder if he should just go, myself.
I think if the story was shortened by about 50 pages or so, taking out some of the unnecessary strife, I would have felt more content with the ending. I mean, when they felt their love was right, why did our couple continue to delay the inevitable? Sometimes love happens fast. Forcing it to slow down is just as harmful as trying to rush it. But that's just my take on it. Some people are more cautious, I guess.
A sweet romance with lots of ups and downs and a lovable Ruby Coconuts! 3.5 suns!