Title
: Seductive Suspect
Author:
Thea Landen
Genre/Age
: Romantic Suspense/Erotica
Series
: None
Publisher
: Decadent Publishing
Links
:
Goodreads
Synopsis
:
A murder mystery weekend goes awry when the guests start dying for real.
Veronica is desperate to survive and escape, but can't deny her growing attraction to Adam, the handsome man staying in the room next door.
Can she trust his intentions, or has she wound up in the arms of a cold-blooded killer?
---
The crisp mountain air no longer felt so cold. Heat spread over my body. His head ducked down, and he captured my mouth in a gentle kiss. Soft lips pressed against mine. I melted farther into his embrace. His tongue slid forward, and I welcomed it, reveling in his sweet taste.

I ran my hands over his shoulders and laced my fingers behind his neck. Lost in his kiss, I pretended we were two normal people surrounded by beautiful scenery, doing nothing more than succumbing to a mutual attraction in one exhilarating moment. Even if something terrible happened to me later on, I could say I chose happiness over fear.

Our kiss grew more fervent, and his grip on me tightened. I let out a small whimper when he pulled away, but he beamed at me.

"Stay with me tonight," he said.

The edge in his voice sent a shiver through me, although my cheeks burned hot.

"Since we don't know what tomorrow will bring, let's be together now."

A tremble shook my knees, and I was glad his strength supported me. Several tiny wisps of doubt flitted through the back of my mind, yet my desire for him overpowered them.

"Okay," I said, the single word all I managed to get out.

Adam took me by the hand and led me toward his room. I floated across the balcony behind him in a dreamy haze. Once he opened the door, though, all semblances of tenderness disappeared.
Five Favorite Movie Scenes
Note from Dawn: Images added by me!



1) Clue is one of my favorite movies (and it helped inspire this book!), so it's difficult to pick my favorite scene. Ultimately, I think I'm going to have to go with Yvette's death scene. She's one of the most prominent of the secondary characters, getting about as much screen time as everyone else, so it comes as a surprise when she's really killed off.
As an added bonus, her death led to the now-legendary "flames on the side of my face" speech by Mrs. White/Madeline Kahn. Hmm, maybe THAT'S my favorite scene in the movie!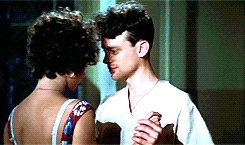 2) Next to Clue, my favorite movie is One Flew Over the Cuckoo's Nest. Again, it's so hard to pick a favorite scene because the whole movie is great, but I think my favorite moment is when Nurse Ratched asks Billy if he's ashamed of sleeping with one of the women McMurphy snuck in. When he answers, it's the only time in the movie he doesn't speak with his usual stutter. Subtle, but powerful. (We won't talk about what happens next….)
3) Hair is one of my favorite musicals. The movie is a little tricky, as the writers had to come up with a plot where there previously wasn't really one, and they do okay with what there was to work with. It's a silly movie in a lot of places, which just makes the ending more of a gut punch – Berger takes Claude's place in the military and gets killed in Vietnam. The big reveal comes during the final number, "The Flesh Failures/Let the Sunshine in", which is my favorite song in the show. Most people who have only heard the song think "Let the Sunshine In" is fairly upbeat and happy…not so much.
(It's okay that I'm spoiling old movies, right? Moving along….)
4) The scene in Spaceballs where Princess Vespa and Lone Starr's almost-first kiss is interrupted. The "interrupted kiss" trope can go either way, and I'll admit to using it in my own writing. This one's a win for me, as everything comes together so well. The setting, the chemistry between the characters (Bill Pullman at his finest, if you ask me!), the realization and acceptance of a mutual attraction…and then Dot Matrix's virgin alarm goes off. HILARIOUS.
5) The sex scene in Priest, with Linus Roache. I usually don't have strong feelings one way or the other about M/M pairings, but…damn. Rawr. Yum. Yeah.
Thea Landen lives in New York with her husband and two children. She strives to encourage creativity and passion in all those around her, and uses writing to help inspire. Though she reads and writes in nearly all genres, she has a special fondness for science fiction, fantasy, and adventure and anything that pushes the imagination beyond its usual limits. When she's not writing, or thinking about writing, her hands and mind are occupied by either yarn crafts or role-playing games.
Author Links:
Buy Links:
a Rafflecopter giveaway